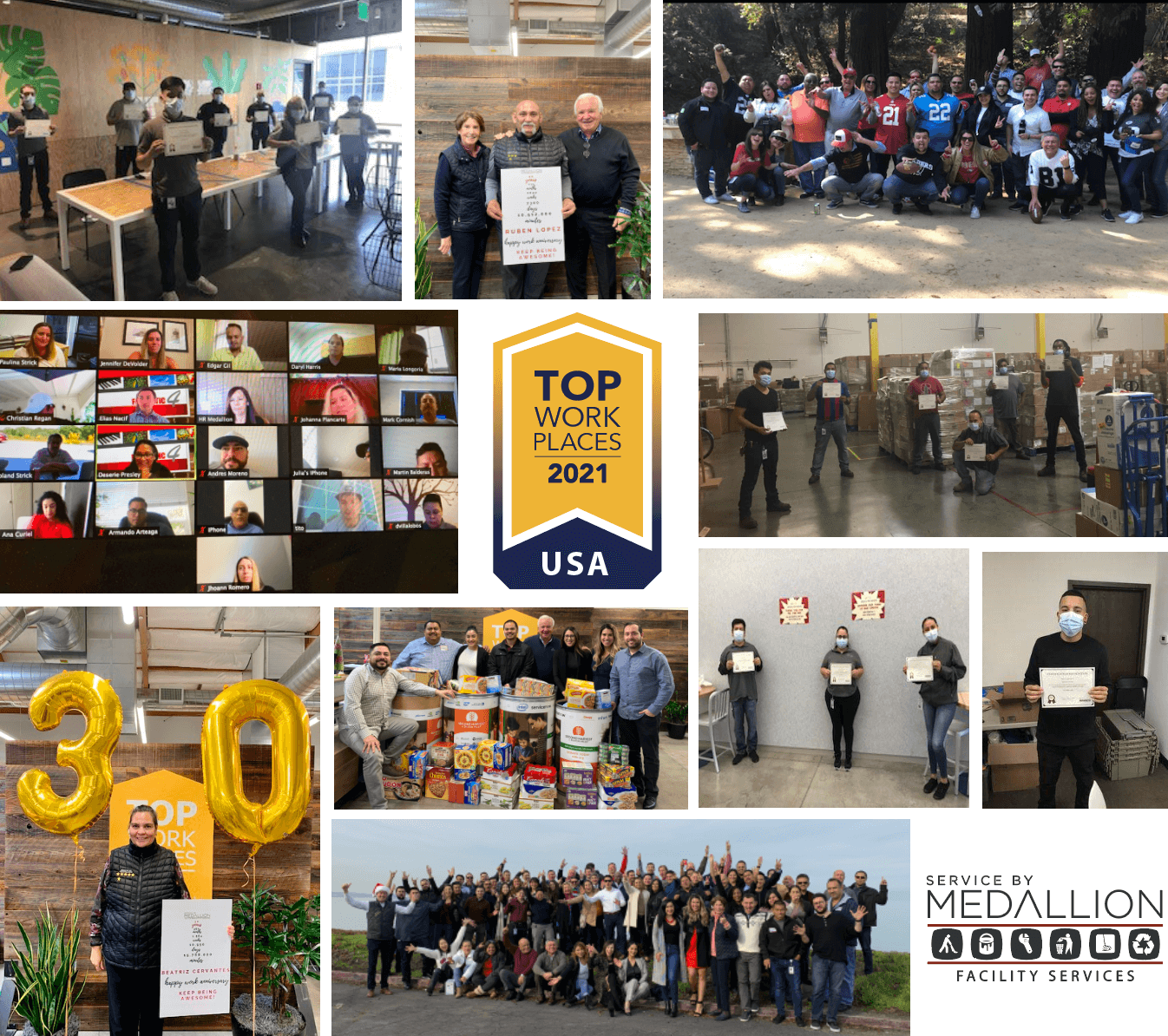 Service By Medallion makes it to USA Top Workplaces
Mountain View, CA – Service By Medallion has won the Top Workplaces USA award for 2021, honoring the company's commitment to creating a corporate culture where workers feel engaged, appreciated, and fulfilled. The award was announced on January 27th at the 2021 Top Workplaces National Celebration, which was held online this year due to the COVID-19 pandemic. The winners were determined based on the results of employee satisfaction surveys conducted at more than 1,100 companies nationwide.
"We're extremely happy to win this award again because it validates our commitment to providing a dynamic and rewarding work environment for our employees," said Roland Strick, Jr., Service By Medallion's President. "2020 was an extremely challenging year for everyone, so we're especially excited to be receiving this national recognition after having won Bay Area Top Workplaces in 2019." 
In 2020, Medallion adjusted its service model to provide COVID-19 response cleaning, decontamination services, workplace reconfigurations, and proprietary cleaning technologies that increased the effectiveness of cleaners, disinfectants, and sanitizers. The company also expanded its service reach, opening a new full-service office in Sacramento, bringing its multiple generations of facility service expertise and best-in-class industry innovations that seek to deliver cost-saving efficiencies without sacrificing quality.
The company offers its employees competitive compensation packages, bonuses, and a 401(k) matching program that is considered one of the best in the facility maintenance industry. The company promotes from within, and many members of the company's mid-level management team began as front-line employees and now develop service lines or sell and manage multi-site projects. 
For more than 40 years, Medallion has also placed a strong emphasis on employee retention, creating a family atmosphere that fosters stronger working relationships with clients and colleagues alike. The Medallion 365 Thrive program is designed to help employees develop their careers and live healthy lives, with volunteering opportunities, scholarships, wellness programs, and ongoing employee development. Here is what some of Medallion's current and past employees have to say about the company:
"We're all part of the family working here."
"Very good working here and lots of opportunity."
"Energetic workplace with several employee perks."
"You can actually build a long-term career here."
The awards were sponsored by Energage, which launched the industry's first employee engagement survey in 2006. Their survey is a comprehensive look at a workplace's culture, from the basics (pay, benefits, flexibility, and training) to long-term job satisfaction (whether employees feel appreciated and their work is meaningful). Energage supports Top Workplaces and related employer recognition programs in more than 50 markets nationwide in partnership with major media outlets such as The Washington Post, The Boston Globe, The Dallas Morning News, Star Tribune, Chicago Tribune, and The Arizona Republic.
About Service By Medallion: Service By Medallion is an award-winning facility support services company, servicing corporate campuses throughout the United States. They are committed to delivering "best in class" industry-leading programs through real-time response, innovation, performance analytics, technology, and expertise. 
Contact Information:
Paulina Strick, Director of Marketing 
P 650.625.1010  
411 Clyde Ave, Mountain View, CA 94043
Email [email protected]