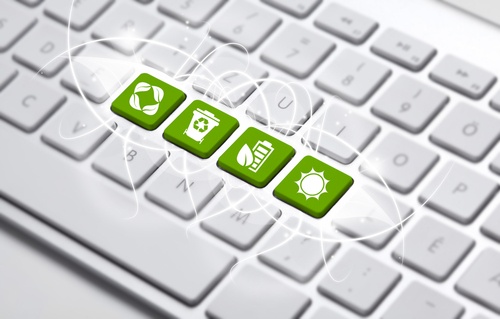 For Facility Managers: The First Five Steps to Sustainability
At Service by Medallion, we have helped many of our clients transition from traditional, non-green cleaning programs to environmentally preferable cleaning products and procedures. The goal, of course, is to help ensure a healthier indoor environment.
However, many are now asking us to help them take the next step, moving beyond green cleaning to sustainability. Before we discuss this further, one thing facility managers should know is that green cleaning and sustainability are not the same.
Let us explain. When it comes to green cleaning, we are referring to the use of cleaning solutions, tools, and equipment that have a reduced impact on the user, building users, and the environment when compared to similar products used for the same purposes.
Sustainability, as it applies to professional cleaning, refers to the use of products and procedures that allow cleaning professionals to maintain facilities more efficiently, minimize waste, protect the environment as well as reduce water, fuel, and energy consumption.
Among the steps we take or suggest to our clients to accomplish these goals are the following:
Install auto-dilution systems.

An auto-dilution system is designed to dilute cleaning chemicals with water more precisely, based on the cleaning needs at hand. When mixed manually, either the custodian uses too much chemical or not enough, neither of which promotes effective cleaning, making it potentially wasteful and costly.

Conduct a product audit.

A product audit is designed to evaluate the solutions currently in use as to their effectiveness, costs, and impact on the environment. Depending on the results of the review, we may suggest transferring to cleaning solutions that may prove just as effective while reducing supply costs and protecting the environment. Also, we typically recommend ways to reduce the overall number of cleaning solutions used in the facility. This helps reduce waste; reduce the amount of fuel needed to transport cleaning solutions, which helps to minimize greenhouse gases released into the atmosphere, and invariably, these steps help to reduce cleaning costs.

Purchase in bulk.

We recommend that cleaning solutions be purchased in bulk. This means selecting products in larger quantities and larger sizes and doing away with purchasing products in gallon containers. Buying in bulk typically results in cost savings per unit and minimizes waste as well as packaging and fuel needs.

Begin the sustainability journey

. Sustainability is a journey. We are continually working with our clients to help them become more sustainable. For instance, one way is to reduce their use of trash can liners. Did you know trash can liners are not required to be recyclable under the latest version of LEED? This means that thousands of liners eventually end up in landfills where they can take years to disintegrate. Devising programs to reduce the use of liners is just one way we help our clients advance their sustainability initiatives.

Explore new technologies.

The professional cleaning industry is changing fast, and among the new technologies now available are cleaning systems that use no chemicals. Often referred to as "engineered water," these systems have proven very effective in many situations, while helping to reduce cleaning costs and, once again, packaging needs, fuel and energy use, and greenhouse gas emissions.
Put Service by Medallion to work for you. For more information on this topic or help with any facilities and maintenance service needs, contact a Service by Medallion Business Solutions Specialist at (650) 625-1010.