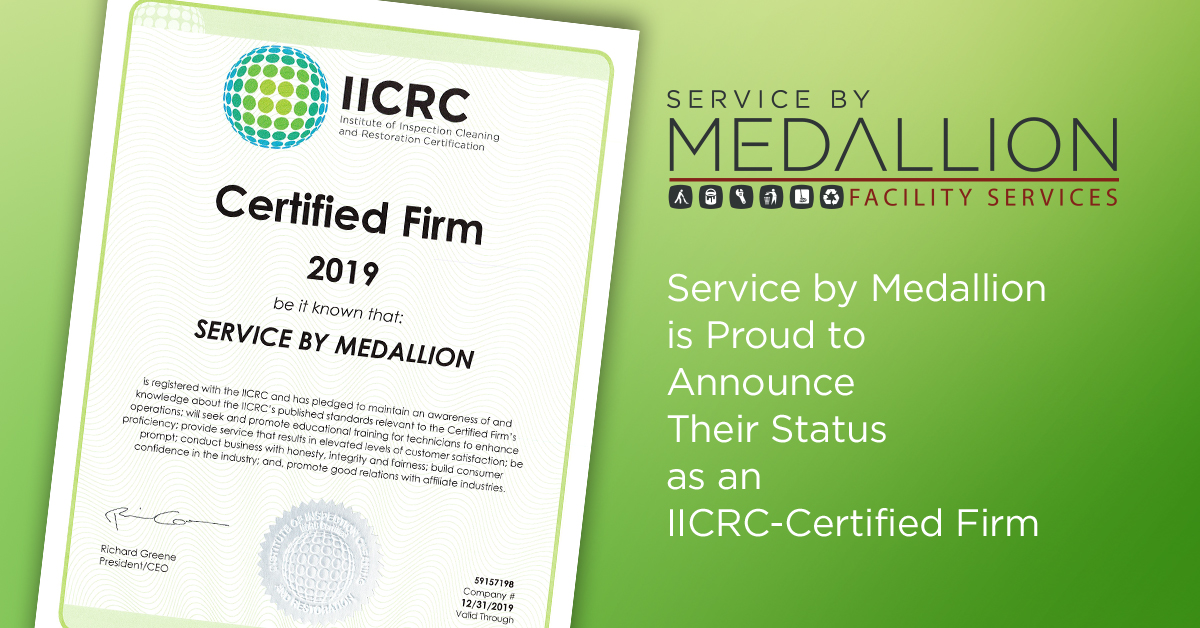 Service by Medallion is Proud to Announce Their Status as an IICRC-Certified Firm
Mountain View, California, September 4, 2019— Service by Medallion has further distinguished themselves in the Facilities Maintenance industry by becoming an IICRC-Certified Firm. The organization recently sent team members to the Institute of Inspection Cleaning and Restoration of Certification (IICRC) to become Carpet Cleaning Technicians (CCT). After three days of coursework, hands-on training, and experience, team members excelled, learned, and passed all program examination.
From now on, all facilities under the purview of Service by Medallion will have an IICRC-backed guarantee that their facilities are in exceptional hands for their carpet cleaning and maintenance needs. The IICRC-approved Carpet Cleaning Technician (CCT) course is a prerequisite for many other IICRC-approved courses. Because of just how valuable the experience has been, Service by Medallion will use this positive opportunity for professional growth as a gateway for more IICRC training courses. The future certainly looks even brighter for the firm.
During their training, Service by Medallion team members had the practical opportunity to test carpet cleaning equipment and apply everything they learned to reinforce their new skillset. The immersive training course was broken down into two days, which totaled fourteen hours, not including exam time and breaks. In addition, there was a third day that consisted of training and more learning opportunities with the carpet cleaning equipment.
During the program, technicians learn how to identify different fibers, yarn and carpet constructions, types, styles, finishes, soiling conditions, and more to prevent improper handling of delicate carpet constructions. Additional subjects included in the course ranged from covering the pre-inspection phase, cleaning chemical differentiation, cleaning techniques for residential and commercial facilities, as well as fabric identification and equipment operation.
The course taught technicians the art and science of carpet cleaning to industry service providers. The training was centered on a hands-on approach to proper cleaning procedures to assure that all technicians clean properly and do not damage various components of the carpets they maintain. As an organization, you pay for the course and the necessary examination, and afterwards the technicians receive their training and  certification.
Service by Medallion is extremely privileged and excited about this certification and will continue working closely with the IICRC to achieve consistent excellence in Facilities Management. Because the Carpet Cleaning Technician course is a required course before many of the other IICRC-approved courses, this certification has opened the door to widen the scope of the organization's expertise in the industry.
The IICRC is a non-profit organization that offers certifications to organizations that want to adhere to standards of quality and excellence in the cleaning, inspection, and restoration sectors. The Institute works closely with the Restoration Industry Association and International Sanitary Supply Association to create the standards that go into all accredited courses and certifications they provide.
The Benefits of being an IICRC-Certified Firm:
Service by Medallion can now be identified through the Global IICRC locator.
Attend webinars and continued education courses CECs.
Access the Toolbox Library, which grants access to newsletters, articles, documents, and courses.
Recognition of excellence from one of the most prestigious standard-setters in the industry.
ABOUT Service by Medallion:
Service by Medallion is an award-winning Facility Support Services Company servicing Corporate Campuses with janitorial, supplies, building repairs, and staffing throughout the West. We serve the U.S. and focus intently on providing clean, eco-friendly services to protect not only your facilities, but the environment as well.
Contact Service by Medallion if you too would like to learn about our proven campus green maintenance programs and how to save more water, reduce waste, and conserve more energy. Service by Medallion is committed to delivering "Best in Class" industry leading programs and services through real time response, innovation, technology, performance analytics, and expertise.