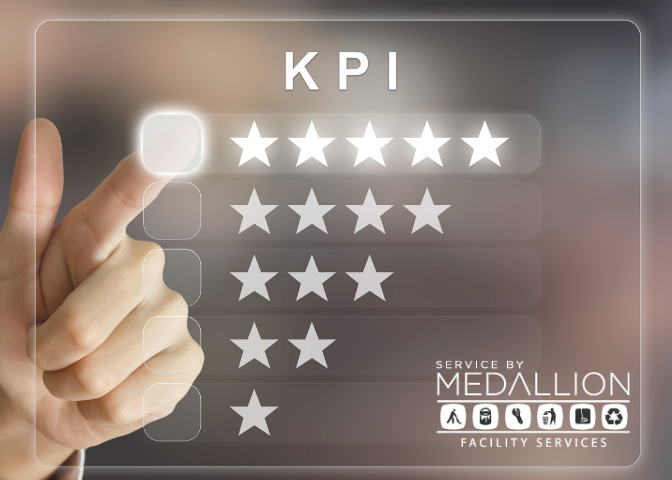 Facility Managers… Here's How KPIs Can Help You Make Informed, Cost-Saving Decisions! 
Key performance indicators can be used to measure just about anything. But some are more relevant than others for facilities management. As an organization, we trust the power of KPIs to help us make informed decisions for our clients on cost-savings, response time, safety, and overall business strategies.
Let's explore some of our favorite metrics for facilities management.
Cost-Saving Measurements for Our Clients
Cost-saving metrics are one of our favorite tools to utilize. Using a key performance indicator to accurately reflect cost-benefit ratios helps showcase real-time value to clients.
For example, Medallion innovates and provides two new cost-savings ideas each quarter for our clients. As a snapshot of our specific offerings, we provide centralized trashing models, Flex Cleaning, and waste diversion programs to give more comprehensive value to our clients.
But apart from just financial value, KPIs reflect how our organization differs from average facilities with comparable rates. They give us the power to show that not only can we quickly close out work orders, but that we also have the data to back up the real-time value we bring clients.
Metrics for Our Clients' Satisfaction
Another one of our favorite categories of KPIs is determining client and employee satisfaction. After all, when it comes to satisfying clients, it's always smart to deliver on expected results.
One way we do this is by conducting external and internal audits. We actively encourage our clients to do audits and then benchmark them against ours to assure that we are providing the quality they expect.
Another big component of our core metrics is response time. When asked, most clients will tell you that facilities managers with the most responsive teams tend to score the highest on client satisfaction.
Team responsiveness is readily accomplished by keeping your team accountable and by measuring the reactive response time and overall productivity of employees.
KPIs for Safety in Our Facilities
It's so important to factor in employee safety. The overall success of any organization hinges on the team members. At Medallion, the strength of our team means less injuries, more productivity, and also a higher sense of pride in the work itself as well.
One great KPI for safety can be as simple as tracking overtime hours. If there are a lot of overtime hours being doled out, that means the team might face a fatigue problem. Too much overtime usually means that more staff need to be hired to evenly spread the workload.
Lastly, when identifying safety hazards, we register "good catches" to prevent specific safety hazards from arising again. Having the capability to make those catches is an invaluable tool for safety and can have a huge impact on the strength of the overall facility.
Get in Touch To learn More About KPIs!
Put Service by Medallion to work for you. For more information on this topic or help with any building cleaning and operating need, contact a Service By Medallion Business Solutions Specialist at (650) 625-1010.