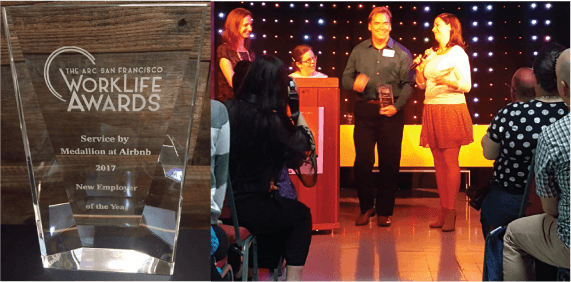 Airbnb and Service by Medallion Presented as the 2017 Work Life Awards New Employer of the Year
AirBnB, partnered with Service by Medallion, were recognized as the 2017 New Employer of the Year at the annual ARC Work Life Awards. The Arc San Francisco is a lifelong learning and achievement center that helps over 700 individuals with developmental disabilities in the Bay Area. The organization has helped ARC clients find work as employees or volunteers at over 150 companies, non-profit organizations, and corporations throughout San Francisco and the surrounding areas.
AirBnB and Service by Medallion have partnered with the organization and trained two employees over the past year, while offering ongoing support and career coaching at the AirBnB campus in San Francisco.
The two companies were recognized for their achievement at ARC's 15th annual Work Life Awards. Both AirBnB and Service by Medallion take enormous pride in this incredible honor, and are happy to continue providing services and training to ARC clients in the future.