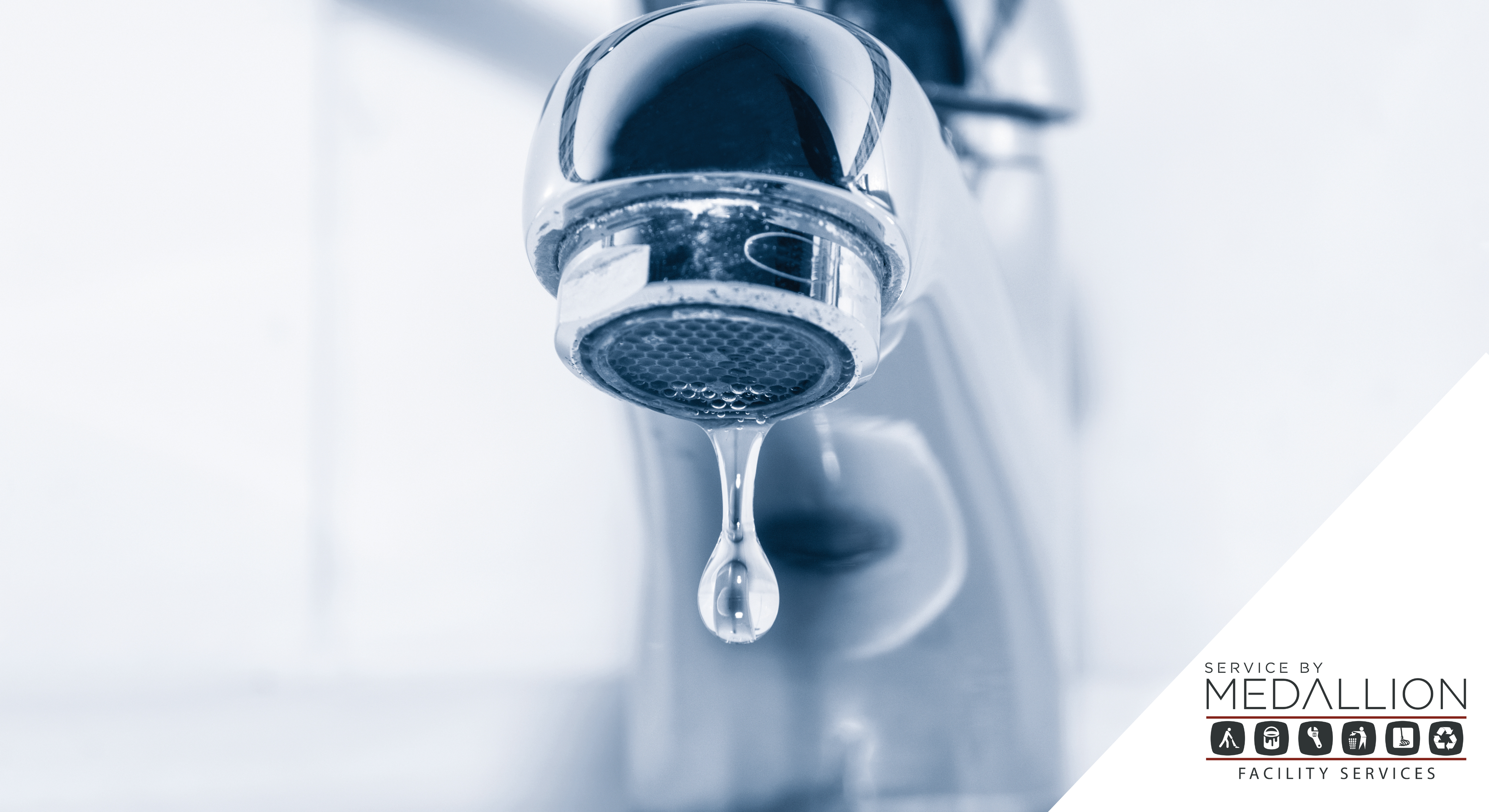 A Simple Audit Can Help You Use Water More Efficiently
In 2022, California experienced its driest January and February in recorded history, which means that the entire state is about to begin its third consecutive year of drought conditions. Governor Gavin Newsom may soon impose mandatory restrictions on water use, following voluntary cuts of at least 15 percent last July.
Service By Medallion offers a water auditing program that has helped many of our customers find painless ways to conserve. We begin by checking for leaks throughout your facility. A single leaky faucet that drips at the rate of one drip per second can waste more than 3,000 gallons per year.
Then we'll take a look at your current water faucets and urinals. Installing low-flow hardware with an aerator can help you cut water usage by around 30%, while maintaining the same water pressure.
Service By Medallion can also offer suggestions for easy changes around your facility that can make a huge difference. Touchless faucets and urinals can reduce water consumption by up to 50%, using built-in sensors that ensure that water only runs when you need it. They also reduce the potential health risk from touching faucet handles, which have damp surfaces that help microorganisms thrive.
We can also look for other creative ways to reduce water consumption throughout your facility, including sustainable landscaping utilizing slow-growing, drought-tolerant, and native plants. We may also be able to suggest other ways to reduce water use in bathrooms, kitchens, and public access points.
Our Cleaning Services Save Water While Making Your Facility Sparkle
Service By Medallion's cleaning operations are highly water-efficient. We use an onsite generation process to turn tap water into a highly effective cleaner, deodorizer, and sanitizer that kills 99% of bacteria and viruses. Once we're finished, the cleaning product reverts to water and oxygen, so no harsh chemicals are dumped into the wastewater system.
Many people are surprised to learn that pressure washing is not only good for removing dirt and grime from hard-to-clean surfaces, but is also much more water-efficient than regular hoses. They also reduce overall water use because they get the job done much more quickly.
Service By Medallion also maintains a "no running water" policy in our cleaning operations and we train our staff to only leave water on when it's truly needed.
To prove our commitment to water conservation, Service By Medallion has implemented all of these measures in our own operations:
Installing high-efficiency urinals has enabled us to save more than 200,000 gallons/person/year.

EPA WaterSense compliant aerators on lavatory sinks and kitchen sinks and motion sensors on faucets have enabled us to save an average of 700 gallons of water per year.

We track our overall water use each month and regularly check for and repair leaks.
Service By Medallion delivers "best in class" industry-leading programs through real-time response, innovation, performance analytics, technology, and expertise. Give us a call at (833) 987-2031 to get a quote or just find out more about our comprehensive commercial cleaning, facility maintenance, and staffing services.